On May 2 2003, XM Satellite Radio will begin shipping its new XM PC Receiver (XM PCR) for home computers, priced at $69.95 (US). The new receiver allows PC users to listen to XM's subscription service, offering 101 channels of digital music, entertainment and news.
Satellite radio has been targeted thus far to mobile and car audio listeners, and XM says the XM PCR is the first satellite radio receiver available for personal computers.
"The PCR makes the tremendous breadth of XM's 101 digital music, entertainment and news channels available to computer users at home, work, school and on the go – without the need for an Internet connection," says XM president and CEO Hugh Panero.
The XM PCR provides listeners with XM's acclaimed digital surround sound stereo, a vast improvement over the sound quality of Internet audio streaming. Additionally, XM's signal is captured directly from XM's two satellites and terrestrial repeaters so there are no "buffering" delays or slow channel searching and changing, effectively turning a computer into an XM radio.
Recognizing the computer's place as the home's entertainment center, XM engineered PCR so users can play games and explore the Web without restriction or slowdown, all while listening to 101 channels of exceptional programming.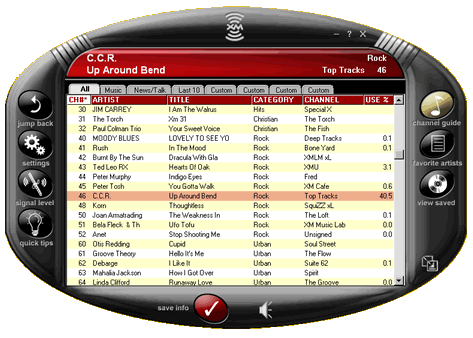 "XM has created a very simple, elegant and inexpensive way to listen to the variety of music, news, sports and talk people crave during their day. Now the XM radio revolution is a mouse-click away for the millions of Americans who daily spend hours at their computers," comments Mr. Panero.
"Meanwhile, it is well-known that Internet streaming places a terrible burden on a computer's connections and resources, and the beauty of XM PCR is that it makes no such demands. XM PCR delivers all of the music with none of the frustration."
XM PCR includes PC software (Windows only) that offers a simple but dynamic user interface, giving listeners a chance to view the music choices on multiple channels simultaneously. Users can easily personalize the display to show their favorite channels, and see everything playing on these channels at the same time. They also can save song titles and artist names for future reference.
The XM PCR package includes the receiver, an antenna, PC software CD-ROM, USB cable (providing power to the receiver as well as the data connection to the PC) and an audio cable. Set up, installation and activation takes only a few minutes. Users will have the opportunity to download subsequent versions of the XM PCR software with added functionality. In addition, antennae extension cables will be available as an accessory.