Radian Audio Engineering's MicroWedge series of low profile, ultra-compact monitor wedges have been winning friends recently, in live performance and broadcast applications.
Artists such as the Red Hot Chili Peppers, Linkin Park and Blink-182 have adopted the MicroWedge for their onstage monitoring, while the BBC, ITV and Channel 4 in the UK also use them regularly.
Now Event Tech, the Maryland-based event production company, has discovered that MicroWedges are well suited to corporate events as well.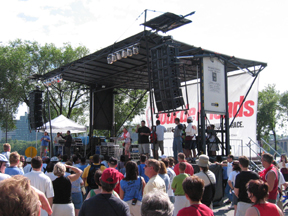 The company has used them in a series of fundraisers across the U.S., including the Tour de Friends, a four-day, 330-mile bike ride from North Carolina to Washington D.C. to raise funds in support of people living with HIV/AIDS.
Event Tech has been using MicroWedge stage monitors to provide podium foldback in its standard mobile stage setup for the tour.
"We use the Radian MicroWedges for foldback for the presenters at the podium, and to fold back audio from the video that we play on a large outdoor LED wall," explains company president and owner Eric Maynard. "That way, the presenter has some foldback of the information that the audience and event participants are hearing."
With all of the audio equipment transported on a Stage Line SL250 Mobile stage and with many events attracting local and national TV coverage, it is important for the onstage monitors to not only sound good but also look good and be discrete, notes Mr. Maynard.
"These 12-inch MicroWedges were brand new, clean, low profile, and clear, which is helpful as far as fidelity goes. For a 12-inch speaker they sound great."
"They're very clean, and the design isn't so boxy – clients like the way they look. They're durable, but we also put them in a padded case, because we don't want any problems with the way they look."
For the events, the Radian MicroWedges join a compact package of high-end audio components on the Stage Line trailer.
"We have 12 flown JBL VerTecs, a very small mix arrangement with an Allen & Heath GL3300 console, and a pair of EV Polar Choice podium microphones," says Mr. Maynard.
In addition to the Tour de Friends, Event Tech has supplied equipment to fundraising events in Boston, Cincinnati, Chicago, and San Francisco this year, with further events scheduled for Portland, New York and Los Angeles.
The company is a supplier of services to a huge number of corporate and political events, which have recently included the 2003 Capital Pride Festival, the Johns Hopkins University 2003 Commencements, Barney and Friends in Concert, and the 2003 MD Governor's Inauguration. Event Tech regularly services the American Red Cross National Headquarters in Washington, D.C. for their public events.
Radian Audio Engineering Web Site