Archos is shipping its new AV320 and AV340 portable digital players, positioning them as the first true personal video players that can record and play back movies with stereo MP3 audio.
The Archos Video AV300 Series portables are no slouches when it comes to straight audio, with either 20GB or 40GB of hard-disc storage for MP3 audio files in any format: 30-320 Kbits/s, constant or variable bit rate. The new models also offer direct MP3 audio recording at 30-160 Kbits/s, variable bit rate only.
Audio connections include stereo analog line in and digital line in/out, as well as a built-in mic for voice recording. Video can only be recorded via analog composite video in, with playback through analog composite video out.
MusicMatch software is bundled with the players, allowing users to convert entire personal CD collections into MP3 format with ease.
The AV300 Series models can be used for computer data back up and transport. A high-speed USB 2.0 interface (or optional FireWire connection) allows you to transfer data, video, music or photo files, to and from any desktop or notebook computer equipped with a high-speed connection.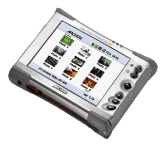 The new portables can also handle photos with ease, offering direct transfer of photos from any digital camera using optional memory card readers, and capacity for up to 400,000 digital photos. An optional AVCam 300 accesory module ($199.95 US) turns the unit into a digital still camera.
Continuing the flexible modular design, the AV300 series also offers an optional FM tuner and recorder module ($29.95 US) that allows you to listen to radio stations or to record favorite songs in MP3 format direct from the FM tuner. A retro-record buffering system lets you record entire songs, even if you press the record button after a song has started.
Built-in video playback is through a 3.8-inch color LCD screen. But the real power behind the Video AV300 is in its ease to record video from any video source. On the go enthusiasts are able to record their favorite video content direct from any video source, TV, or VCR. They can also quickly download and save large volumes of MPEG-4 video files via the Internet. Once the video is saved to the Video AV300, users can play back the video either on the built-in color display or on any TV or PC in near-DVD-quality.
"At home people have TVs, stereos, DVD players and PCs for personal entertainment. Now consumers want to watch the latest release of a movie, a favorite TV show, or a music video while killing time, or additionally listen to MP3 music in the car or share videos and photos with friends, all while on the go," said Henri Crohas, president and founder, Archos.
"People also want to record music from their stereos or video from a TV, but they do not want to have to go through a PC. The Video AV300 series provides a single personal device that does it all."
Recording from analog video sources, and playing back in VHS resolution, the AV300 series allows for comfortable viewing of full-length movies, entire seasons of TV shows, complete collections of music videos, or simply a young producer's own personal home videos.