Chipmaker Asahi Kasei Microsystems Semiconductor (AKM) has introduced the AK4122, a 2-channel, 96 kHz asynchronous sample rate converter with a built-in Digital Audio Interface (S/PDIF Receiver).
The new chip is destined for DVD, car Audio/Video, digital TV, and PC audio applications. It provides a combination of standard audio input ports, plus a digital audio interface for DVD recorders and other audio/video equipment.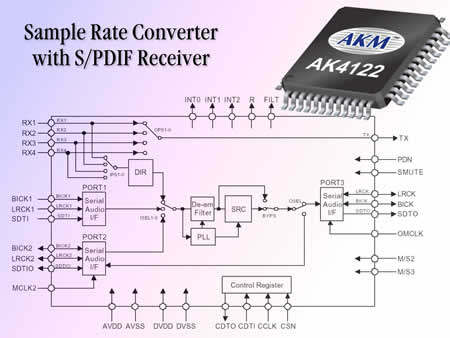 The AK4122 asynchronous sample rate converter can accept digital audio via standard DSP/I2S interfaces or S/PDIF or AES/EBU interfaces. The integration of the AES/EBU interface saves circuit board space and reduces system cost.
The AES/EBU section of the AK4122 offers the same high performance as the currently-marketed AK4112B, 96kHz 24-Bit DIR including a four-input (4:1) Selector. The AK4122 can also detect non-PCM data streams like DTS and AC-3, while a CD Q subcode buffer allows the chip to easily read CD data.
The AK4122's built-in PLL eliminates the need to provide an external master clock, and the SRC section provides two audio input ports and one output port.
Price and Availability
Engineering samples of the AK4122 are available now, in an extremely small 48-pin LQFP package. The part is priced at $4.21 in 1K quantities. Evaluation boards and samples are available directly from AKM