| | |
| --- | --- |
| PRODUCT NEWS | Detroit, MI, March 15, 2004 |
Acura TL's ELS Surround System Blows Away Bose, Mark Levinson and Harman Kardon In-Car Audio Systems


Challenge listeners voted 9-to-1 in favor of Panasonic's discrete six-channel DVD Audio ELS Surround system over competing high-end in-car audio systems at last week's SAE World Congress auto show in Detroit.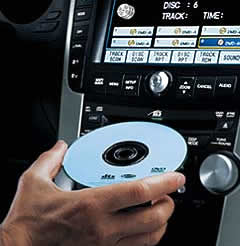 According to the final survey results of the ELS Surround Sound Challenge compiled by MORPACE International Research, Panasonic's revolutionary new discrete, six-channel DVD Audio premium sound system, ELS Surround, was the overwhelming favorite of the nearly 1,300 SAE show attendees
Car sound enthusiasts participated in the four-day, side-by-side competition against other premium sound systems, conducted at the 2004 SAE World Congress. The competition took place inside the Panasonic booth on the show floor at Cobo Convention Center.
A total of 1,290 people participated in the event over the course of the show, comparing ELS Surround in the 2004 Acura TL against the Bose system in the Cadillac CTS; the Mark Levinson system in the Lexus LS 430; and the Harman Kardon Logic 7 system in the Mercedes E-320.
Participants cycled through the vehicles, comparing the sound qualities of identical musical selections in each vehicle, then revealed their preferences by answering a series of questions from MORPACE representatives.
According to the four-day cumulative numbers from MORPACE, total preference of ELS Surround over the competing premium systems breaks down as follows:
ELS Surround vs. Bose (Cadillac CTS): 360 of 400 participants preferred ELS (89.8%)


ELS Surround vs. Mark Levinson (Lexus LS 430): 373 of 418 participants preferred ELS (89.2%)


ELS Surround vs. Harman Kardon (Mercedes E-320): 379 of 472 participants preferred ELS (80.3%)
The high-resolution ELS Surround system is the first DVD-audio system in a vehicle to provide six independent and discrete channels of sound. Panasonic's system is personally tuned for the Acura TL vehicle by five-time Grammy winning producer Elliot Scheiner.
By contrast with the simulated digital signal processing mix available in other premium automotive sound systems, the ELS Surround system allows fully discrete playback of each of the six channels of audio available on high-resolution DVD-Audio discs.
2004 Acura TL Features First Car Audio System With Discrete Multichannel DVD-Audio and DTS (DVD-Audio Daily)