The Lyra is a new, fully-digital desktop production mixer from D&R Electronica in The Netherlands. Its design is based on the requirements and wish lists of end users and distributors looking for a versatile compact small universal desktop mixer. It is built around a sophisticated Texas Instruments DSP engine.
Although the Lyra is a digital console, it operates like a conventional analog production mixer, with the same comfort and intuitive ease-of-use. No fundamental concessions have been made towards reliability, high speed controller-response and system stability.
The new digital console offers 18 inputs (7x digital, 7x analog, 4x mic ins), connected via a digital cross-point router that accepts multiple formats of audio. This router actually is an integrated programmable patch-bay that enables you to send any of the input signals to any desired processing channels.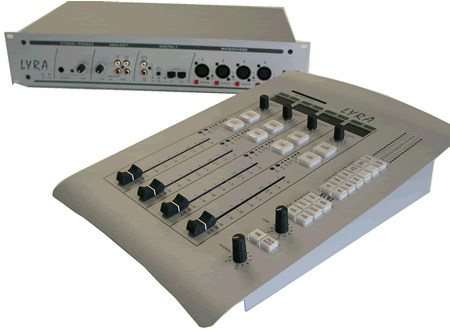 The processing channels each offer a two-band parametric EQ section, and dynamics control. The signal output by the DSP channel can be routed to main stereo busses. Every main buss is stereo and has dedicated analog outputs, but the buss signals can also be routed to a digital output. Monitoring functions are analog, which makes the interface with other equipment very simple and easy to understand.
The Lyra has four processing channels with 100m faders (with large On and Cue switches) and a rotary encoder for multiple functions. A LCD per channel shows input selections and many other functions.
In the right hand section of the console are dedicated instant access functions for Source, Gain, EQ on/off, Dynamics on/off, Aux, Pan, Program and Sub selection.
The analog master section with 16 segment led bars and source select switches makes interfacing very easy with all sorts of monitoring devices. A CobraNet option is available for integration within our network solution to share more sources.
The Lyra is totally software-controlled, and you can configure it with your laptop (or any other external PC) via 100 base-TX networking (UTP connector). At the same time, Lyra's custom DSP software ensures absolute stability.
Features
32 bit floating point processing
Less then 0,5 milliseconds propagation delay
Digital I/O's are 16/20/24 bit and supports sample frequencies from 32KHz to 96KHz
Sample rate converters on all digital inputs
EQ and Dynamic on all processing channels
All faders are labeled
Real time info displayed on every module
Integrated digital patching system
All in/outputs with GPIO's
Remotes with Start, Stop (pulse/continuously)
Auto Red light function
CobraNet option
Fader, Switch or Cue start
Word clock out
Card reader