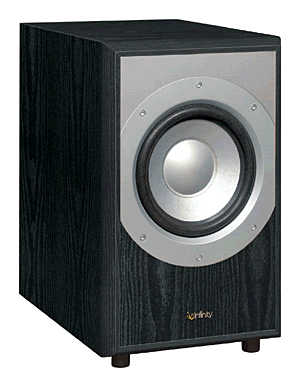 Infinity Systems has introduced the PS Series, a new line of affordable powered subwoofers. The new subs use Infinity's new Metal Matrix Diaphragm™ (MMD™) driver technology to produce exceptionally accurate and detailed low-frequency performance.
The subwoofers are available in three different sizes and power ratings, to accommodate every room size and listening requirement.
PS-8 subwoofer, with 8-inch MMD woofer, 100 watt built-in amplifier ($299 US)
PS-10 subwoofer, 10-inch MMD woofer, 250 watt built-in amplifier ($399 US)
PS-12 subwoofer, 12-inch MMD woofer, 300 watt built-in amplifier ($499 US)
The PS Series subs complement Infinity's new Primus Series and Infinity Alpha Series loudspeakers, in complete 5.1-, 6.1- or 7.1-channel music and home theater systems. PS Series subwoofers are designed to match sonically with all Infinity Primus Series and Infinity Alpha Series models to create an expansive, full-range multichannel sonic environment.
All three models are available from Infinity dealers this month.
Speaking for Infinity, brand manager Eli Harary comments: "Outstanding bass reproduction has always been an Infinity hallmark, and our PS Series makes the low-frequency accuracy and musicality that Infinity is known for more affordable than ever before. PS Series subwoofers are ideal for adding the heightened sonic realism and impact of extended low-frequency response to a home entertainment system, and are the perfect match to our Primus Series and Infinity Alpha Series home theater and stereo loudspeakers."
MMD Technology for Powerful, Refined Bass Performance
Infinity's MMD drivers are derived from the company's patented Ceramic Metal Matrix Diaphragm (CMMD™) technology. Infinity says the MMD drivers offer significantly improved performance compared to speakers made of conventional cone materials. MMD cones are manufactured by anodizing both sides of an aluminum core to a controlled thickness, producing low-mass highly rigid driver diaphragms that operate with greatly reduced distortion and cone breakup, along with outstanding transient response, resolution and smoothness throughout their frequency range. Each woofer is designed to shift its internal resonances beyond its operating frequency range to achieve maximum sonic clarity.
The innovative MMD woofers are complemented by powerful built-in amplifiers that combine high power output with high efficiency, optimized to each PS Series model's woofer and enclosure. The PS-8, PS-10 and PS-12 all feature front-firing woofer designs and tuned, ported enclosures to achieve maximum volume output and deep bass from compact enclosures that can easily be placed in a wide range of room locations. The PS-12 delivers extended low-frequency response all the way down to 25Hz, while the PS-10 and PS-8 provide bass down to 27Hz and 35Hz (below the lowest note of an electric or acoustic bass), respectively.
All Infinity PS Series subwoofers include continuously variable crossover frequency and level controls, a phase switch, and LFE (low-frequency effects), line-level and speaker-level inputs to precisely optimize their performance in any multichannel home theater or music system and their placement within the room. PS Series enclosures are braced to minimize unwanted internal resonances.
PS Series subwoofers are finished in black ash, with complementing black grilles, and make an elegant visual statement even with their grilles off, thanks to their rich-silver front bezels and matching silver speaker cones.