Logitech Z-680 First THX Certified Speaker System to Simultaneously Connect to and Play from PCs, Video Game Consoles, DVD and Portable Audio Players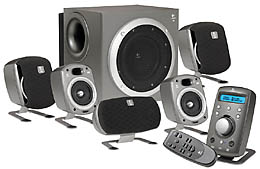 Logitech has announced the flagship 5.1 speaker system in its award winning Z-Series family, the Logitech Z-680. The Z-680 comes equipped with Dolby® Digital and DTS® hardware decoding for true 5.1 digital sound. These speakers make it possible to bring THX-certified home theater surround sound to multiple platforms, by enabling simultaneous use with PCs, video game consoles, DVD players and portable audio players. The Z-680 offers tremendous value, and is currently available in retail outlets, and online at Logitech's Web site, for a retail price of $399.95.
The Z-680 is a THX-certified, 5.1-surround sound system with 450 watts of RMS power. Its high-end features include:
Eight-inch, long throw subwoofer driver with a flared bass port for powerful, distortion-free bass
Dolby® Pro Logic II for creating realistic 5.1 surround sound from stereo music, movies and games
Digital optical and coaxial inputs, as well as six channel analog inputs, for simple connection to nearly any audio device
Digital SoundTouchTM Control Center with a wireless remote, for easy adjustment of the speaker controls from anywhere in the room
"Last year, with the introduction of the Z-Series speakers, Logitech established itself as a top player in the multimedia speaker market," said Bob Wick, senior vice president and general manager of Logitech's Audio Division. "This year we plan to raise the bar for high-end multimedia speakers, with the introduction of the Z-680. This 5.1 system will surpass the competition by offering a single system that is THX-certified, includes Dolby Digital and DTS hardware decoding, and simultaneously connects to four different audio sources. The extraordinary power this system brings to both the desktop and the living room will revolutionize the multimedia speaker market."
THX certification involves rigorous testing of sound performance, user interface and construction. With the launch of its second THX-certified speaker, Logitech is underscoring its commitment to providing superior clarity and power in a multimedia sound system. "We are extremely pleased with Logitech's entry into the 5.1 speaker market with the Z-680 speaker system," said Mark Paddack, director of sales for THX. "All speakers that receive THX certification must meet stringent performance parameters, including: bandwidth, frequency balance, peak sound pressure levels and the ability to play up to their rated output level. The Z-680 exceeded all requirements, and has received the THX seal of approval."
Logitech plans to continue its successful Z-Series speaker line, by offering a wide variety of products to meet varying consumer needs and budgets. The Z-680 is the company's current flagship 5.1 speaker system. Earlier, this fall, Logitech introduced another 5.1 speaker system, the Logitech Z-640. The Z-640 provides over 50 watts of RMS surround sound power, and includes adapters for instant connectivity to game consoles, TVs, DVD and CD players. These speakers let users experience Dolby Digital 5.1 sound in conjunction with a PC sound card or software DVD player with a built in Dolby Digital decoder. Using the adapter that is provided with the system, the Z-640's provide immersive 5.1 surround sound with gaming consoles, TVs, DVD and CD players. The Z-640 uses Logitech's patented dual-chambered Pressure Driver subwoofer, which enables lower and louder bass sound than conventional subwoofers for rich deep bass and greater tonal purity. This speaker system is currently available online and in retail outlets for a list price of $99.95.
Logitech's Z-Series speakers are known for industrial design quality, and the ability to bring a home theater feeling to the desktop. The Z-680 and Z-640 speaker system satellites feature innovative stands that rotate for either desk or wall mounting. The Z-680 includes removable grill covers that can be detached to create the more aggressive, "audio-tech" look of the aluminum phase plug drivers. Both speaker systems utilize home stereo style connectors and standard gauge speaker wire.
About Logitech
Founded in 1981, Logitech designs, manufactures and markets personal interface products that enable people to effectively work, play, and communicate in the digital world. The Company's product family includes Internet video cameras, mice and trackballs, keyboards, headsets and speakers, interactive gaming devices and 3D controllers.
With operational headquarters through its U.S. subsidiary in Fremont, California, and regional headquarters through local subsidiaries in Switzerland, Taiwan and Hong Kong, Logitech International is a Swiss public company traded in Switzerland on the Swiss Stock Exchange under the symbols LOGN and LOGZ, and in the U.S. on the Nasdaq National Market System (LOGI). The company has manufacturing facilities in Asia and offices in major cities in North America, Europe and Asia Pacific.