MartinLogan Announces Grotto, Compact, High-Resolution Subwoofer
High-end loudspeaker maker MartinLogan®, known for pricey, high-performance hybrid electrostatic speakers, has introduced the Grotto™, a reference-standard, powered, servo-control subwoofer system.
The new Grotto builds on the success of MartinLogan's Descent and Depth subwoofers, delivering dramatic bass detail and attack using a proprietary low-mass, high-excursion, high-resolution driver, advanced servo monitoring and control, a precision crossover and an intuitive 25Hz level control.
The Grotto model is available immediately at a suggested retail price of $995 (US).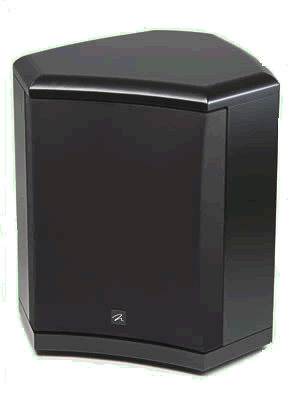 High-Resolution Driver Provides Powerful Bass
The heart of the Grotto subwoofer is a proprietary MartinLogan, 10-inch, high-resolution driver – identical to those used in the more expensive Descent subwoofer. The combination of Grotto's extreme low mass aluminum cone and the tremendous field strength generated by the magnet motor structure results in huge excursions and massive cubic displacement capability.

Advanced Servo Monitoring Provides Control and Low-Distortion

Grotto's advanced servo monitoring and control system, combined with state-of-the-art driver and cabinet technologies, dramatically reduce intermodulated and harmonic distortions found in most subwoofers. By constantly monitoring and correcting for any deviation from the original audio signal, MartinLogan's control system yields literally a 3- to 10-fold distortion reduction. This results in highly resolved, tight fisted and dynamic bass.
Seamless System Integration in Any Setting
Grotto is suitable for use in all stereo- and multi-channel applications, and it is designed to excel in all installation configurations: in corners, inside cabinets, underneath or behind furniture.
Intuitive control functions allow the Grotto to be easily tuned for any installation. MartinLogan designed the Grotto with a robust input/output architecture that easily integrates in both stereo- and multi-channel audiophile systems. Additionally, RCA output allows multiple Grottos to operate in a serial configuration.
Extreme care has been focused on the group delay (phase) characteristics for each of Grotto's 6 discrete crossover settings (ranging from 30-80Hz) to deliver precise contouring in both the amplitude and time domain. The result? Seamless and cohesive integration with any system.
The handy and intuitive 25Hz level control allows easy correction of bass problems common to most rooms. It also permits increased deep bass if you desire a subsonic sense of energy at the lowest frequencies.

MartinLogan Web Site
Also see: MartinLogan Mosaic Floor Standing Loudspeaker
Key Features and Benefits
High-Excursion Aluminum Driver: massive cubic displacement
Advanced Servo Control: dramatically reduces distortion
25 Hz Level Control: tames your rooms Most problematic frequency
Low Distortion, Ultra-Fast Amplifier: provides precision and power in a small package
Specifications
System Frequency Response: 22-150 Hz ± 3 dB. Anechoic through the LFE effects input.
Low Pass Filter Frequencies: 30, 35, 45, 55, 65, 80Hz
High Pass Filter Frequency: 70Hz
Phase: 0°, 90°, 180°
25Hz Level Control: ±12dB
Components: 10″ (25.4cm) high excursion, aluminum element woofer with extend throw drive assembly
Amplifier: 250 watts (350 watts peak)
Inputs: RCA Line Level; RCA LFE; Speaker Level
Outputs: RCA for Multiple Subwoofer Connection
Weight: 40 lbs. each (18.2 kg)
Size: 15″ W × 12.9″ D × 15.38″ H (38.1 cm W × 32.8 cm D × 39 cm H)