Paul J. Cox Systems, long known for its custom recording studio construction, installation and consulting services, has entered the equipment manufacture arena with the launch of a range of electronically balanced active Direct Inject systems.
Previously manufactured as integrated components of custom studio build or retrofit projects over the last five years, the DI systems are now being made generally available.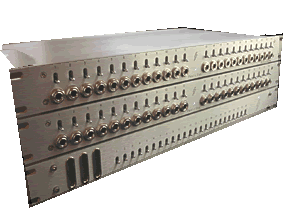 "We began building and installing these units into our studio systems many years ago," explains owner and chief design engineer Paul J. Cox. "The demand from numerous artists, producers and engineers who had used our studios and loved the sound of the DI units prompted us to make them available as user equipment."
Paul J. Cox Active DI Systems are installed at Westlake Audio, Mike Post Productions, Frontpage Recorders, the Mix Room, Firehouse and many other prestigious recording and post production facilities.
Active DIs are used to transform low-level, noisy, unbalanced audio signals such as keyboard, MIDI module, drum machine or sequencer outputs, into clean, balanced +4dB signals, resulting in major improvements to the recorded audio quality.
The Paul J. Cox Active DIs offer frequency response that is flat from 10Hz to 60kHz (+/-0.1dB), with an average -85dBu noise floor. They also provide 12dB of additional gain (optionally specified with up to 20dB), and offer 28dB of headroom.
The DI systems are available in a variety of configurations to suit all applications, from standalone 8-channel to customized rack-mounting multi-channel units with integrated patching capabilities, front or rear panel connectors, ground lift switching and custom pinout wiring. Units can be supplied with balanced inputs and outputs for integration with balanced buffer or distribution systems.
The standard 24-channel DI unit occupies a single rack space and is 8 inches deep. Front panel 1/4-inch unbalanced inputs, ground lift switches and rear panel 90-pin Elco balanced outputs wired to European/Amek, Harp or custom pinout requirements are included.
For permanent installation with consoles intolerant to unbalanced inputs, rear panel unbalanced inputs and balanced outputs on Tascam standard D-sub or 56- or 90-pin Elco connectors can be supplied. That allows the direct connection of unbalanced external equipment with balanced outputs to console user patchpoints, line or mic level inputs. All rack-mount DI systems are supplied with an outboard ± 18.65v linear power supply module that can run up to five 24-channel DI units.
Eight-channel systems are available either as standalone floor or counter-top units with top-mounted 1/4-inch inputs, ground lift switches and multipin outputs, or as a wall-mount or permanently installed unit incorporating multipin connectors for inputs and outputs. Standalone 8-channel DI units include an integral power supply.