Several new loudspeaker designs from Europe made their first North American appearances earlier this month at the Home Entertainment Show (HE2003) in San Francisco.
Randy Bankert of O.S. Services, the California-based distributor of several quality hi-fi lines from the U.K., Italy and Germany, was on hand to demo new models from Cadence Audio, Revolver, and Aliante.
Cadence Audio Arista
The Arista is Cadence Audio's newest addition to their line of electrostatic hybrid loudspeakers. It is based on several technologies derived from Cadence's flagship Arca speaker, and it comes priced at $5,495 (US) per pair.
Key features of the Arista include:
a proprietary electrostatic panel which is impervious to humidity and which is designed to prevent arcing, thereby extending the useful life of the panels well beyond that of conventional electrostatic panels
improved Linkwitz filters for smooth impedance curve and coherent wave propagation
Eton Hexacomb mid-woofers with dual membranes stiffened with intra-laminar honeycomb elements, so that the cones are light and stiff to respond quickly to transients and peaks to provide better compliance with the extremely fast response of the electrostatic panel
cabinets made of a proprietary composite material that reduces cabinet resonances
solid front baffles formed from solid billets of certified plantation grown cherry, teak, mahagony, and other quality hardwoods
According to Randy Bankert, the Aristas are versatile in terms of associated equipment and listening environment, and capable of reproducing any genre of music faithfully, with a grace and ease that belies their potential for weight and authority when required. At the HE2003 demo, they were powered by a pair of Audion Golden Dreams 22W parallel single-ended 300B Level 6 monoblocks ($15,000 US per pair).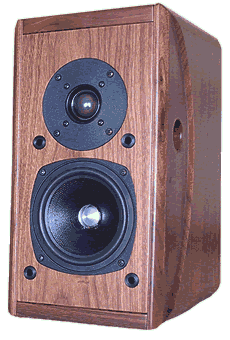 Aliante Stile SW
Italian manufacturer Aliante's new Stile SW was designed as an evolution of their Stile PF. It offers similar high-style aesthetics, and an improved level of accuracy and performance. The retail price is $1,495 (US) per pair.
The Stile SW uses a new 5″ mid-woofer driver, derived from the Linea PF model, replacing the 4″ woofer used in the Stile PF. It is fabricated in Italy according to Aliante's proprietary design specifications, featuring an internal phase plug that optimizes dispersion of midrange frequencies. The new driver is said to improve the already commendable bass response and extension.
Aliante takes great care with cabinet fabrication and finish, aiming for maximum strength and rigidity. As with the best examples of modern design, form follows function, so stylish details such as the tilted front panel serve as essential parts of the functional design – in this case, providing a coherent phase between the drivers, increasing high frequencies dispersion and reducing internal standing waves. Similarly, the side bass reflex ports avoid spurious emissions without creating positioning problems associated with rear bass port designs.
The SW's cabinet has been improved in several ways:
the internal volume of the cabinet has been increased to produce a more accurate and deeper bass response with a higher extension in dynamics and sound stage than the Stile PF
the cabinet is formed from solid wood staves hand-crafted by Aliante's master woodworkers to provide an enhanced level of quality and workmanship
As with previous Aliante designs, the crossover is a first-order type, using high-grade components such as Aliante's own AUDIOCAP polypropylene capacitors in an extended first order design with only nine elements.
Four speaker terminals and complete ground separation are provided, allowing for either single- or bi-wiring connections.
Revolver R33 Monitors and R45 Floor-Standing Loudspeakers
Also new to North America are the latest models from UK-based Revolver Loudspeakers. Both the R33 monitors ($895 US per pair) and the R45 floorstanders ($1,595 US per pair) are magnetically shielded to permit use in home theater applications, as well as standard 2-channel hi-fi.
Both new models feature advanced design and construction to improve performance and value, such as substantial MDF cabinets with circumferential bracing and laminated (2 part) top, bottom and baffle; custom-specified 6.5″ mid/bass driver (R33) and midrange and bass drivers (R45), with vented metal chassis and glass fibre diaphragm; anodized aluminium dome tweeter with powerful ring magnet for smooth and natural high frequency extension; bi-wirable inputs with gold plated terminals; and an easy 8 Ohm load with 90 dB/Watt sensitivity.
The hard-wired crossovers – 2-way for the R33, 3-way for the R45 – utilize air core and Ferrite inductors, metal film resistors and ICW polypropylene capacitors.
The Revolver R33 and R45 are each available in pearlized maple and cloth finishes: pale grey, burgundy, or black.