Blaupunkt will introduce a new line of ultra-thin coaxial car stereo speakers at the CES 2003 show in Las Vegas next month.
The new loudspeakers use proprietary technology to achieve a dramatic 1-inch reduction in mounting depth compared to conventional speakers of similar performance capabilities. The Blaupunkt ODx652 will be the first model in the company's new 'Thin Line' series of loudspeakers, and one of five Blaupunkt products to receive the Innovations 2003 Design and Engineering Showcase award at the 2003 Consumer Electronics Show.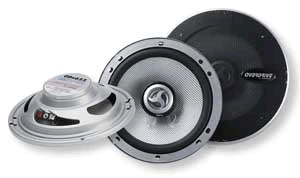 Blaupunkt's Thin Line speakers are designed for mounting in shallow door panels, kick panels, and other locations that will not accommodate the much greater mounting depth of conventional coaxial speakers.
These speakers are also significantly lighter than conventional coaxials, with the 6-1/2-inch ODx652 full-range speaker weighing less than 1 pound. Blaupunkt's engineers eliminated the large ferrite magnet assembly that is conventionally mounted at the rear of the speaker basket, and replaced it with a lightweight high-power neodymium magnet. This magnet is mounted within the voice coil assembly, providing the same driver power, but at a much lower premium of space and weight.
At less than 1/2 the mass of conventional speakers, the Blaupunkt ODx652 thin coaxials are an ideal solution for 'tuner car' enthusiasts, where every ounce matters. A Thin Line system can save over 10 pounds of weight in a standard four speaker coaxial system. These speakers are also perfect for mounting applications where excess weight can stress and damage trim or paneling.
The ODx652 thin coaxial speaker will be available in March at a suggested retail price of $169.95. Other models in this line will be announced at that time.

Blaupunkt USA Web Site