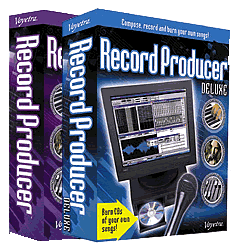 PC-based music software developer Voyetra™ has released two new desktop music production packages aimed at the home and consumer recording niche. Record Producer™ and Record Producer Deluxe™ are follow ups and upgrades to Voyetra's popular and award winning Digital Orchestrator™ series of music creation software.
Record Producer ($49.95 US) turns a MIDI-equipped PC into a desktop music production studio, allowing composers to record songs using MIDI and digital audio tracks, then play them back for others.
Record Producer Deluxe ($99.95 US) expands on the features of Record Producer, and adds powerful digital audio editing with its Advanced Digital Audio Editor and CD creator. The Deluxe version also comes with 5,500 samples to help home composers jump start the music creation process.
"Our Digital Orchestrator series of products has been extremely popular over the years," comments Frederick Romano, executive VP of Voyetra.
"The combination of powerful audio editing tools with an extremely user-friendly interface makes the Record Producer products perfect for both the home songwriter or studio musician alike."
Both products' minimum system requirements are a Pentium-class 233MHz, Windows 98/ME/2000/XP, Internet Connection, 64MB RAM, 16X CD-ROM and a 16-bit sound card (Turtle Beach Santa Cruz recommended). A microphone is required for recording custom samples and a CD-R is needed for burning features.
Record Producer and Record Producer Deluxe are available immediately from major computer and electronics retailers, as well as direct from Voyetra's Web site.