Tejera Microsystems Engineering has produced a Recording Studio Test CD that will be particularly useful in home recording and semi-pro project studio situations, where the expense of a full set of test equipment is hard to justify.
"Musicians with home studios, pro studios, and sound reinforcement engineers will find the Recording Studio Test CD an indispensable tool to assure the quality of the recording process," says Albert Tejera, producer and engineer of the CD.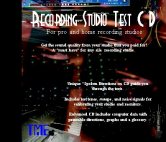 The disc plays on ordinary audio CD players. It functions as a powerful signal generator. In addition to the test tones you would expect to find, it also has spoken directions that walk you through all the tests. These verbal instructions guide you in calibrating and setting up your system, step by step.
"Many of the tests require only simple adjustments to your system," explains Mr. Tejera. "These small changes can make a big difference in the quality of your recordings."
The audio portion of Recording Studio Test CD consists of 79 audio tracks. 19 of these tracks introduce and describe, step by step, how to perform the tests. The tones on the remaining tracks let you identify speaker channels and speaker phasing; calibrate VU meters; test signal-to-noise performance; catch dropouts in digital audio workstations; tune monitors to the room; locate rattles; and test compressors, EQ's and gates.
The new CD can be also used to set up PA systems, as well as home and car stereo systems. The Recording Studio Test CD brings together test features and ease of use previously unavailable at any price point.
Bonus material, included on the enhanced data portion of the disc, includes data files containing printable instructions, test measurement graph paper, and a glossary of audio terms.
Note: to access the enhanced data portion of this disc, you require a computer, Web browser and Adobe Acrobat reader software (free download).
The Recording Studio Test CD is available now, and may be purchased directly from Tejera Microsystems Engineering Web site. The regular price is $24.95 (US), but introductory pricing is currently in effect, just $14.95 (US).
Tejera Microsystems Engineering Web Site