Las Vegas, NV. At COMDEX Fall'96, several new products announced by PC audio card leader Creative Technology Ltd. have mapped out a strategy intended to raise the quality standards bar for audio on home PC's to what the company refers to as "professional" level.
The new products, all due to ship in January 1997, include a new generation of the Sound Blaster® series of sound cards, and new software and upgrades for both consumers and developers.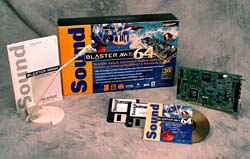 In the Sound Blaster line, the new introductions are the AWE64™ and AWE64 Gold™, which build on the successful AWE32™ model introduced last year. The new Sound Blasters deliver an advanced feature set for synthesis and record/edit applications, while maintaining compatibility with all of the previous Sound Blaster products.
Advanced features on both cards include…
64-note MIDI polyphony
realtime digital effects and SoundFont downloadable samples
RAM upgradeable to 28MB for adding SoundFont sample banks
proprietary Wave Effects Synthesis with a patented multi-point interpolation algorithm for smooth reproduction and minimal distortion
Sondius™ WaveGuide synthesis for expressive, mathematically modeled music output
3D Positional Audio spatialization
full-duplex capability for Internet communications and simultaneous playback and recording
Additional features of the AWE64 Gold include…
SPDIF digital audio output
4MB of RAM standard on the card for better quality MIDI playback
2MB, 3.5MB and 4MB General MIDI SoundFont banks onboard
gold-plated RCA connectors for line level outputs
Creative says it is targeting a home-hobbyist and consumer market interested in creation and playback of audio that rivals what is produced in professional recording studios.
"The Sound Blaster AWE64 Gold is a result of Creative's pursuit for uncompromised audio fidelity," says Sim Wong Hoo, Chairman and CEO of Creative Technology Ltd. "With these new products, and more to come, we expect a paradigm shift in the music creation, publishing and distribution industry that will result in a larger, expanded market."
Both new cards come with a microphone and a complete suite of applications that provide tools for recording, playback and customization. Creative also bundles a set of Internet applications for browsing, streaming audio, Internet phone calls and conferencing. The Sound Blaster AWE64 Gold will have a retail price of $249 (US), and the regular AWE64 will go for $199 (US).